Plywood is a resistant, solid and high-performance product, but its utilization as well as the conditions of its installation must be carried out in accordance with either national or international rules or standards.
During transportation, plywood panels should be placed on a clean, flat and dry supporting surface. They should be firmly fastened to avoid sliding and bending.
When handling and moving the panels, take care to protect the edges.
Plywood panels should always be stored flat, in a dry place on intermediate bearers and clear of the ground.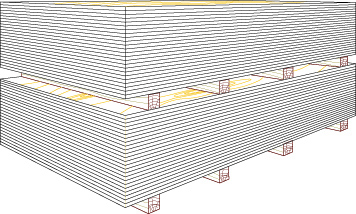 Being installed it is important that the panels are stabilised in the environment in which they will serve. This is particularly important if they have spent a prolonged period of time in a dry or damp environment. Provision should be made for a proper ventilation of the reverse side to eliminate condensation. Depending on the context of application it may be necessary to leave a gap to allow for expansion between each panel or at the perimeter of the construction.
It is recommended that to carry out all cutting, machining and pre-painting operations in the workshop. Tungsten carbide tipped (TCT) blades should preferably be used. When processing with a band saw, it is acceptable to use tempered tipped blades. For high quality cutting, the reverse side of the panel should be facing the saw bench. The latter should be equipped with a knife scorer and a board splitter. Best cutting results are obtained when sawing is made along the wood grain.
Plywood can be fixed by mean of nails, screws, staples or glue. In case of nailing and screwing provision should be made fixings are not left protruding.
Finishing and maintenance
Applying any type of finish it is recommended to carry out a test of the product on a sample piece in order to verify the compatibility between the finishing substance and the plywood itself. When plywood panels are used as sidings in exterior conditions it is absolutely vital that they are installed in accordance with standard practice and following our usage guidelines. So far as mounting and fixing are concerned please refer to the specific installation guidelines for each application. Protection and finishing of the faces, reverse sides and edge sealing , along with maintenance at regular intervals, are essential to ensuring the longevity of the wood. However, over the years, it is possible that an alteration of the wood appearance occurs. This is a natural phenomenon and does not constitute a defect of the product.
User's guidelines for mounting and futher processing THEABULT plywood
The characteristic values needed to calculation in structural design are available on the DOPs or on the technical product data sheet.
► View the technical product data sheets
Plywoods for use in construction