Involved in its territories, the THEBAULT Group is both an industrial group and a family business. The THEBAULT Group is France's leading manufacturer of plywood panels, accounting for almost 50% of national production, and is one of the top 5 European manufacturers.
An industrial group
► Key figures
FAMILY-OWNED INDUSTRIAL GROUP
WITH 100% OF THE FAMILY ASSETS
► 5 units in France, 1 in Gabon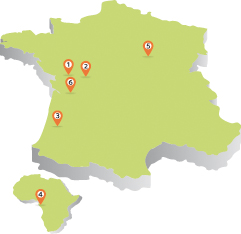 The THEBAULT Group operates 4 production facilities in New-Aquitaine and the Grand Est region (France), a peeling unit in Gabon (West Africa) and a logging company (France).
a family company
► 3rd generation at the Head of the Group
Founded by Jean THEBAULT in 1953, the company started with the further processing of Poplar a much abundant wood resource in the region, to make sawn timber for the local market. The installation of the first peeling lines in 1960 and the diversification in the wood species used such as Okoumé imported from Gabon and a few years later Maritime Pine accelerated the group's national and then international growth.
► ETIs in primary wood processing
The THEBAULT Group, a plywood manufacturer, is an "Intermediate Size Company" (ETI) in the primary wood processing industry. Historically anchored in rural areas, it actively participates in the social and economic activity of the communes in which it is established.
► A philosophy founded on core values
The THEBAULT Group's company philosophy is founded on the cornerstones of independence, constant investment and respect. These values have contributed to the success we have enjoyed over the years.
The company enjoys full financial independence, with 100% of the capital retained by the THEBAULT family.
The management team is closely involved in industrial and commercial operations.
We have a highly effective policy of systematic investment in our industrial facilities.
We are constantly targeting performance, productivity and competitiveness on the long term.
We ensure that constant respect for our employees, for our customers, for our suppliers and for the environment is observed.