Adding value to by-products
By-products are the wood residues resulting from the manufacture of plywood panels. They are marketed in various forms.
Peeler cores
Once the maritime pine peeling operation has been completed we are left with a peeler core. This is the heart of the log with a diameter of around 80 mm. Length tends to vary between 2.65 and 2.95 metres.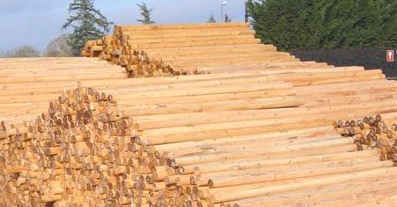 We produce 500,000 peeler cores per year.
Peeler cores are used in the pallet and sawmilling industries to make wooden pallets. They are often used in gardening to form the borders of flower beds, as stakes or as fence and hoardings.
CHIPS
Chips are generated when logs are rounded off before real peeling.
Maritime Pine chips are used in paper manufacturing, and in the production of particle boards.

Okoume chips are used as biomass to generate heat, or the production of particle boards.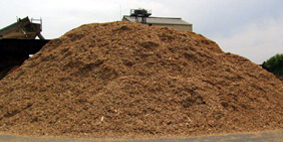 We produce 24,000 tonnes every year.
BARKS
Les opérations de calibrage et de triage permettent de proposer à la vente 3 calibres :
Those barks are used for the mulching of flowerbeds or as additives to fertilizers in the production of potting compost.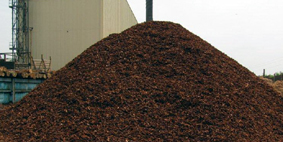 Our yearly production of maritime pine barks is 35 000 m3.
densified logs
The compacted or densified logs are made from chips and sawdust from Maritime Pine veneer offcuts certified PEFC. The different components have a moisture content of less than 10% and will undergo a strong compression, of almost 200 bars, to be agglomerated and solidified without any additives, glue or chemical products. The compacted logs are 100% natural. They have a higher calorific value than wood. Thus, 1 ton of densified logs (or 1 m³) is equivalent to the calorific value of 4 steres of dry wood.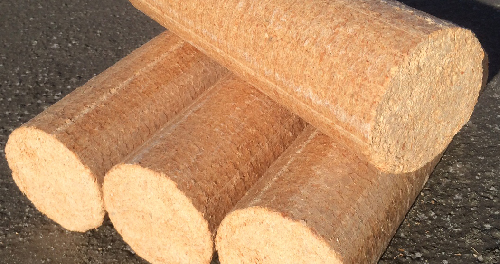 Our production capacity is 6,000 tons / year, for a 100% European production.