THEBAULT Ply-Land has been selected has a laureate eligible the "Stimilulus fund for boosting industrial investment in the regions"
As part of the implementation of the "France Relance" plan (France – Recovery) announced by the Government early September 2020, Fabienne BUCCIO, Prefect of the New Aquitaine Region, and Alain ROUSSET, President of the Regional Council, have selected the top 10 recipient companies from New Aquitaine eligible to the fund for the stimulus program aiming at boosting industrial investments in the region.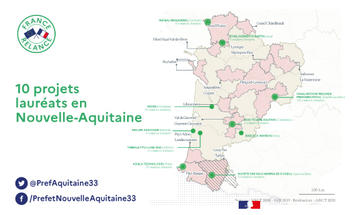 The THEBAULT Ply-Land unit of the THEBAULT Group is one of the 10 regional companies that have been nominated as awardees for their upcoming investments in Maritime – Pine Plywood aimed at being used in the timber frame construction.
These 10 projects represent nearly € 6.4 million in subsidies provided by France Relance within a total program for a total of € 32 million in productive investments.
They will enable the companies concerned to diversify their activity, modernise their manufacturing processes and thus maintain their presence in New Aquitaine.
Share on social networks :