Since its foundation in 1953, three generations have successively been at the head of the THEBAULT Group, bringing the family business to the position of French leader in plywood with a strong international standing and reputation.
Plywood manufacturer
► Plywood at the heart of our business
Plywood is a material consisting of veneers, or plies, of wood obtained by peeling Okoumé, Maritime Pine and Poplar logs. These sheets of wood are then arranged at right angle, glued and pressed to be assembled into plywood panels.
► Plywood is used in a wide variety of applications
the construction industry, timber frame housing

Industrial packaging

Yacht-building,

Vehicle construction, utility vans

Internal fitting and furniture
The THEBAULT group markets plywood manufactured in France from Maritime Pine, Poplar and Okoume veneers.
By-products and residues from the manufacturing process as peeler cores, pulp & paper chips or barks are all recycled which resulting in a raw material recovery yield close to 95%.
An industrial group
► Key figures
---
1 st french manufacturer
Top 5 des european manufacturers
---
► 5 units in France, 1 in Gabon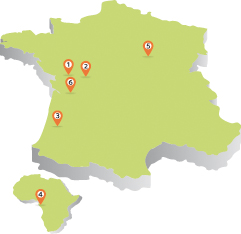 4 production facilities in New-Aquitaine and the Grand Est region

(France)

1 peeling unit in

Gabon (West Africa)

1 logging company

(France)
A Family compahny
► 3rd generation at the Head of the Group
Founded by Jean THEBAULT in 1953, the company started with the further processing of Poplar a much abundant wood resource in the region, to make sawn timber for the local market. The installation of the first peeling lines in 1960 and the diversification in the wood species used such as Okoumé imported from Gabon and a few years later Maritime Pine accelerated the group's national and then international growth.
► A philosophy founded on core values
The THEBAULT Group's company philosophy is founded on the cornerstones of independence, constant investment and respect. These values have contributed to the success we have enjoyed over the years.
The company enjoys full financial independence, with 100% of the capital retained by the THEBAULT family.
The management team is closely involved in industrial and commercial operations.
We have a highly effective policy of systematic investment in our industrial facilities.
We are constantly targeting performance, productivity and competitiveness on the long term.
We ensure that constant respect for our employees, for our customers, for our suppliers and for the environment is observed.
► Controlled origin
At THEBAULT we support sustainable forestry management policies and local initiatives aimed at implementi. Our wood supplies are thus sourced from sustainably-managed forests, guaranteed by the PEFC™ (Maritime Pine and Poplar) and FSC® (Okoumé veneers) certification schemes or conforming to a CFAD forestry programme (Okoumé veneers).